Bijjala : The Fore founder of the Linage
Bijjula Rameshwar Reddy was the last jagirdar to hold title and some privileges of our ancestors. He along with his cousin Capt. Dr. B. Padmanabha Reddy was the first in our family to be educated in English in Madras University. He passed his high school in 1927 and his cousin Capt. Dr. B. Padmanabha Reddy finished his degree in medicine and joined Army Medical corps in Indian Army. Bijjula Rameshwar Reddy along with his cousins had administered the small Jagir (principality) called Pallepad Jagir consisting of Six villages till India became a Republic in 1950. Bijjula Rameshwar Reddy was a very simple man who was pious and strongly believed in helping the needy and uneducated.
Bijjula Rameshwar Reddy's elder brother, Bijjula Chandra Shakara Reddy, who succeded his father, was a good administrator and latter in life became a Monk of repute, has three sons Dr. B. Padmanab Reddy, B.Goverdhan Reddy & B.Janardhan Reddy and a daughter Indra Devi. Bijjula Rameshwar Reddy's uncle's son is, B.Dharma Reddy, was a very great hunter and was a connoisseur of good food and life, has two sons B. Mahavir Reddy and B. Vijaykumar Reddy and a daughter Girija Devi.
Bijjula Rameshwar Reddy has two sisters Rukmini Devi and Sita Devi (Premela Pingle). Rukmini Devi is married to her maternal uncle, i.e mother's younger brother, a rich Land Lord from Bijinapalli, (Mahabubnagar, Andhra Pradesh), she has one son and five daughters.
Bijjula Rameshwar Reddy's other sister is Sita Devi (Pramela Pingle) is married to Justice P. Jaganmohan Reddy (the son of a very powerful Industrialist Pingle Venkatram Reddy) , who was the Chief Justice Of Andhra Pradesh High Court and latter was Judge of the Supreme Court Of India. They have three sons and a daughter.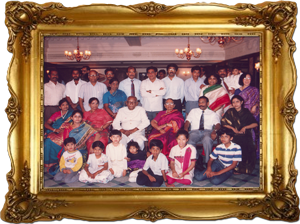 Present Descendents Of Bijjula Linage